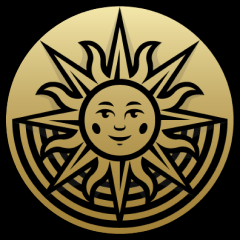 We're right at home in this circus of bright lights, big imaginations, and vivid dreams. When you meander along the strip, you don't just jump from one casino to another, you enter other worlds, fantastical lands born from what was once just an idea, a dream.
Someone came up with all this, envisioned it from nothing, and now it's here for visitors, locals, and tourists to enjoy. Just who are the people who created these Las Vegas buildings? We're so glad you asked. These dreamers are not just architects and designers, but artists. Their canvas was once a lonely strip of road that snaked its way through a barren desert. They took a brush and dipped it into whimsy, excitement, and fun and painted this town into existence.
Let's take a closer look at these artists and the famous Las Vegas buildings they helped create.
The Neon Museum
Address: 770 Las Vegas Boulevard N, Las Vegas, NV 89101
Year Built: 1996 (The Lobby dates back to 1961)
Architectural Style: Mid-Century Modern
Why We Love It:
The visitor center building was originally built in 1961, the brainchild of Paul Revere Williams, as the La Concha Hotel lobby. It is an iconic mid-century modern architectural structure and a beloved piece of Las Vegas history.
The Neon Museum, which is about saving all historic Vegas things, rescued the lobby from an untimely demise. The lobby was moved and reassembled where it stands today, ready to welcome you to the wonderful world of historic Las Vegas signs, which have been salvaged and erected, many even restored, all over the Neon Museum's expansive grounds.
Bellagio Hotel and Casino
Address: 3600 S Las Vegas Boulevard, Las Vegas, NV 89109
Year Built: 1998
Designed by: Jon Jerde
Architectural Style: Neoclassical
Why We Love It:
The famous Bellagio fountains stage performances of aquatic acrobatics, captivating onlookers and bringing the hustle and bustle of the Vegas Strip to an awe-inspired standstill, if just for a few moments. They have become a staple and must-see for any Vegas itinerary. Jon Jerde, who also had a hand in designing Treasure Island Hotel and Casino, dreamed up this concept of a lake in the desert with dancing fountains while he was vacationing near a real Italian town named Bellagio in 1995.
This Italian-themed resort displays breathtaking Dale Chihuly-designed glass flowers on its ceiling, is home to a whimsical botanical garden, and hosts our surreal water-themed show, "O", at the Bellagio Hotel and Casino.
The Mirage Hotel and Casino
Address: 3400 Las Vegas Boulevard S, Las Vegas, NV 89109
Year built: 1989
Designed by: Joel Bergman
Architectural style: Polynesian-themed European
Why we love it:
There's nothing more thrilling than discovering a lush, refreshing oasis in the middle of a dry, dusty desert. Joel Bergman imagined just that when he designed this tropical paradise for travelers thirsty for fun, excitement, and volcanoes. We'll admit we're rather partial to The Mirage Hotel and Casino since that's where we performed our very first Cirque du Soleil show on the Strip, Nouvelle Expérience, in 1992. We LOVE it even more now because that's where you can experience our exciting Fab Four Cirque du Soleil tribute show, The Beatles LOVE.
Las Vegas Welcome Sign
Address: 5100 Las Vegas Boulevard S, Las Vegas, NV 89119
Year Built: 1959
​​Designed by: Betty Willis
Architectural Style: Googie
Why We Love It:
Betty Willis is the amazing woman who designed the iconic sign that greets Las Vegas visitors and now appears on everything from postcards to keychains to legs. The story goes that bright, colorful signs were popping up all over the area and a thoughtful man named Ted Rogich decided that the city deserved one, too. He hired the company Betty Willis worked for, Western Neon, to make the sign, and Betty went on to design it using the Googie architecture style that was popular at the time.
She unselfishly declined to copyright her design so she could share it with the world. Because the original sign has been cherished and well-preserved after all these years, you can still come to Vegas and snap a selfie in front of it, just like what Betty would've wanted.
Mandalay Bay Resort & Casino
Address: 3950 South Las Vegas Boulevard Las Vegas, NV 89119
Year built: 1999
Designed by: Klai Juba Architects
Architectural style: Tropical-themed Contemporary
Why we love it:
Taking the oasis-in-the-desert theme from palm trees all the way to sharks, the Klai Juba Architects envisioned a spectacular water wonderland that wets and wows. Water features and fountains splash throughout the property but are mere preludes to the incredible Mandalay Bay Beach water park. If the two-story aquarium in the hotel isn't thrilling enough, you can wander through the amazing 1,300,000-gallon Shark Reef that's teaming with, you guessed it, sharks. While you're there, if you start feeling like a Bad, Dangerous, Smooth Criminal, moonwalk your way over to our unforgettable Cirque du Soleil interpretation of King of Pop's musical world, Michael Jackson ONE.
New York New York Hotel and Casino
Address: 3790 S Las Vegas Boulevard, Las Vegas, NV 89109
Year built: 1997
Designed by: Neal Gaskin and Ilia Bezansky
Architectural style: Art Deco
Why we love it:
Neal Gaskin and Illia Bezansky made a copy of real iconic Big Apple buildings and landmarks and then threw them into the dryer for too long before carefully gluing them into place on the property where they now exist. At least, that's how we like to believe New York New York Hotel and Casino was created. At one-third the size of the originals, the unmistakable skyline has been convincingly fun-sized, while keeping the thrills as big as ever.
If you find yourself wide awake in this fantasy version of the city that never sleeps, delight your senses at our wild Cirque du Soleil New York night-life reverie, Mad Apple.
Fremont Street Experience
Address: 425 E Fremont Street, Las Vegas, NV 89101
Year built: 1995
Designed by: Jon Jerde
Architectural style: High Tech
Why we love it:
We imagine famous architect Jon Jerde took one look at old Fremont Street and said, "What this place needs is a giant overhead light show and ziplines, definitely ziplines." Business owners near Fremont street were looking for a way to attract visitors to the Strip back downtown to their area, and geez, did it work. The virtually unbelievable Fremont Street Experience is covered by the largest video screen canopy in the world and, of course, ziplines.
The Strat
Address: 2000 Las Vegas Boulevard S, Las Vegas, NV 89104
Year built: 1996
Designed by: Ned Baldwin
Architectural style: Futuristic
Why we love it:
Inspired by the Sydney Tower in Australia, Ned Baldwin, who also designed the CN Tower, thought Vegas needed its own unbelievably tall tower. The futuristic style is reminiscent of the Jetsons, where all the towers are tall and pointy — just like how many towers are today. When you first come over the hill and see the city lights of Vegas, the magnificent Strat points the way to the Strip. It's definitely something you can't miss.
MGM Grand
Address: 3799 S Las Vegas Boulevard, Las Vegas, NV 89109
Year built: 1993
Designed by: Veldon Simpson
Architectural style: Neo-Art Deco
Why we love it:
The original version of the MGM Grand, designed by Veldon Simpson, was a whimsical trip into a life-size "Wizard of Oz" experience. After several remodels, the only part that still remains is its Emerald City green exterior. Simpson also designed the Luxor and Excalibur, allowing visitors to shuffle from one wondrous world to another.
Speaking of wondrous worlds, you can still experience the rapture of a bigger-than-life story at the MGM Grand during our unforgettable Cirque du Soleil martial arts, multimedia, and pyrotechnics extravaganza, KÀ.
Caesars Palace
Address: 3570 S Las Vegas Boulevard, Las Vegas, NV 89109
Year built: 1966
Designed by: Melvin Grossman
Architectural style: Neoclassical
Why we love it:
Walking into Caesars Palace is like entering a portal that transports you to another time and place. The exquisite statues, alluring decor, and captivating topiary-filled garden almost make you forget you're still in Vegas. We have Melvin Grossman to thank for this extraordinary neoclassical creation, where anyone can feel like Caesar.
Cleveland Clinic Lou Ruvo Center
Address: 888 W Bonneville Avenue, Las Vegas, NV 89106
Year built: 2009
Designed by: Frank Gehry
Architectural style: Deconstructivism
Why we love it:
The Cleveland Clinic Lou Ruvo Center takes bizarre architecture to new heights. Out of the genius mind of Frank Gehry has come the most amazing, unique building ever to be erected in Las Vegas. It looks as though he took a normal building and then handed it to a giant, who twisted it all around before setting it in its current position. We applaud you, Mr. Gehry, for this truly extraordinary work of art.
Treasure Island
Address: 3300 Las Vegas Boulevard S, Las Vegas, NV 89109
Year built: 1993
Designed by: Joel Bergman and Jon Jerde
Architectural style: Caribbean-themed Contemporary
Why we love it:
Treasure Island, designed by Joel Bergman and Jon Jerde, started out fully embracing its daring pirate theme by wowing crowds with nighttime pirate ship street shows and boldly displaying an enormous skull on its sign. Steve Wynn, who owned The Mirage at the time, wanted to expand the tropical theme over to what was once a parking lot for The Mirage, and thus, Treasure Island was born.
The pirate theme has since been scaled back quite a bit, but there's still plenty of swashbuckling, intrigue, and adventure at Treasure Island during our imaginative and immersive Cirque du Soleil production, Mystère.
Experience All the Beautiful, Extraordinary, Out-There Las Vegas Buildings
We hope you appreciate as much as we do all the imagination and dreaming it took over the years to create the unreal, eccentric Las Vegas buildings we know and love today. If you haven't been to Vegas in a while, we encourage you to come back and get a good dose of much-needed thrills in your life. If you've never been here, you have to come and soak in this amazing place in person. There's nothing like it in the world, and it's all thanks to the amazing artists who created these famous Las Vegas buildings.
While you're here, make sure you come and experience one of our Las Vegas shows so we can enchant you with our own awe-inspiring world of imagination.
Cover image by Tobias Smietana via Unsplash.